Q:
Why do I get error message "This version of vSpace Pro is no longer supported. Please visit the NComputing website to download the most recent version." when I try to register the vSpace Manager?
A:
From time to time, in order to avoid inconsistent versions across the board, some older versions of vSpace Pro Server will be no longer be allowed for new installation or new registration. Consequently, certain versions of the vSpace software you may have downloaded into your computer in the past may no longer allow you to install or register and you may see the warning: "This version of vSpace Pro is no longer supported"
Please note that if you have a non supported version that is currently installed and working on your server(s) it should keep working as normal, however, we strongly recommend to plan ahead and update your platform to the newer versions that are fully supported, as should you have an immediate need to reinstall or register again, you may not be able to do it if you use an oder platform.

We strongly encourage you to visit our website to download the latest official release of vSpace Pro so you can benefit from new features, improvements and bug fixes.

When you perform the update of vSpace software in your environment, if you have more than one vSpace Server or vSpace Manager elsewhere, we strongly recommend to also upgrade all the rest of the servers until you have the same version version across your environment in order to minimize any unpredictable interruptions or issues because of not having uniformity and congruency on the vSpace versions.
Ready to upgrade? Please
download
the newest, supported version from our website and
update or install
it to your host computer(s). If you update, you can click the Refresh icon in the vSpace Manager in order to have your local environment re-sync with our
Management Portal
.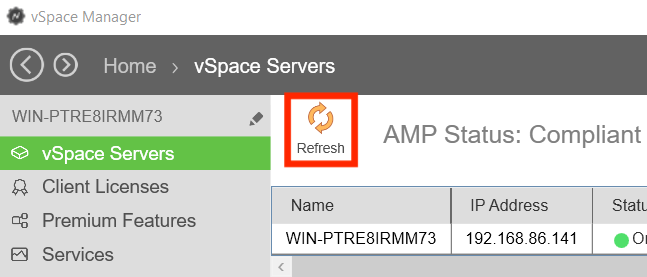 If you experience any issues refreshing, you can
re-register
your vSpace Manager to ensure proper synchronization.
REV 08/2021