OVERVIEW

If you receive this warning upon registering your device, very likely you have been the victim of fraud. The full message reads:
"This device has been marked as unauthorized and illegitimate by NComputing, and is not supported by NComputing Global Inc. This device and will not be able to connect to any vSpace Pro software. vSpace AMP, TAM, PPI are also not applicable on these illegitimate devices.


We recommend you talk to your seller to find out the source of these illegitimate devices.
NComputing Global, Inc. reserves the right to identify specific devices as invalid and/or non-compliant. Devices that are marked in this way are typically related to fraudulent activities or theft.
WHAT TO DO
1. Talk to you vendor and return the units.

Understanding that you can be an unfortunate victim of fraud, we strongly encourage you
talk to your vendor
,
and if you identify the source of these illegitimate devices, you are welcome to
report it to our support team
. We also remind you that it is always better for you to purchase new product from our
authorized partners
. Purchasing secondhand product can leave you in unfortunate circumstances as the one that is covered in this article, and necessary warranties and licensing may not apply to acquired second-hand units.
2. Purchase a reset license.

This procedure will work only for the US territory. If you are located in another country in the world, please, contact your NComputing Authorized Partner in order to purchase an unblocking reset license.

Marked units mentioned in this article will always remain non-operational, unless reset for a one-time fee. The full procedure for this will be described later in this article.

3. Buy Back Program

If you are not interested on the mentioned reset procedure, NComputing may provide you with a 'buy back' option for $10 per unit for eWaste processing. Yet, you will need to ship the units to our warehouse and the minimum shipment accepted must include minimum 10 units at least.

HOW TO PERFORM THE RESET PROCEDURE

For US customers only.
If you are interested to keep your device, (or devices) you must purchase a reset key that will enable your unit to function again as a legitimate device. You must purchase this key for every device you own.


The purchase and application of the Reset Blocked L300 Device license, only unblocks the terminal from it's illegitimate serial number state and brings it to a normal functional state. However, this device is an aged device and it will still need a vSpace Aged Device Connection license or an AMP subscription (sold separately) in order to work with vSpace Pro.

Please be fully aware of these requirements.

First, you have to log in to
www.ncomputing.com
, then, c
lick on the Login | Register button.
Choose whether you want to create an account for the first time. (it is completely free to create) If you already have an account, log in.
When you sign up for an account, pay attention to the spelling of your email address. You will be receiving a confirmation link to your email in order to validate your account.

Once you are logged in, the Management Portal tab will become available to you. Please click on it.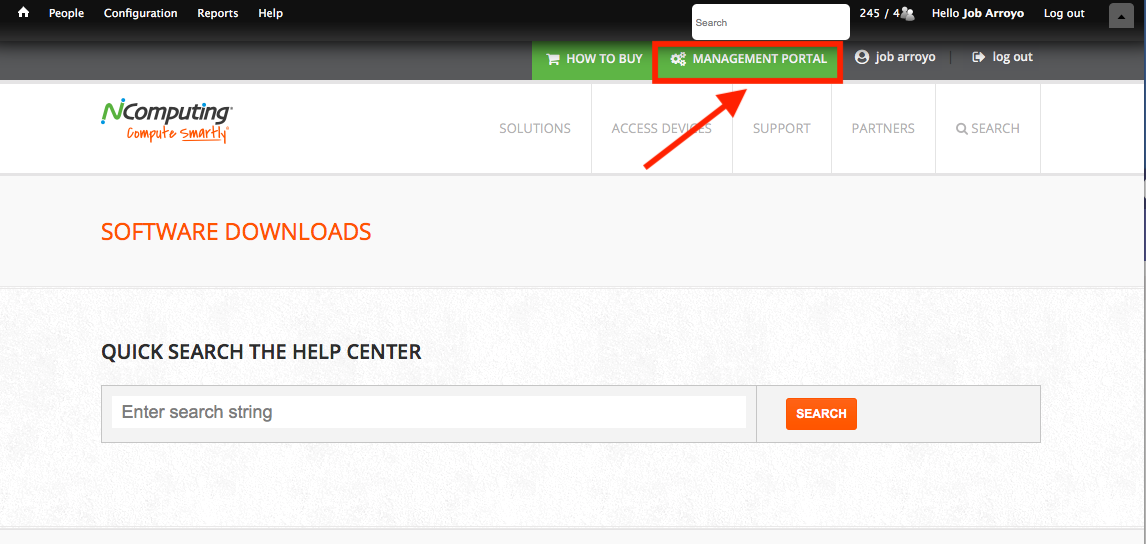 Then, go to our store. (Purchase Licenses and Services icon)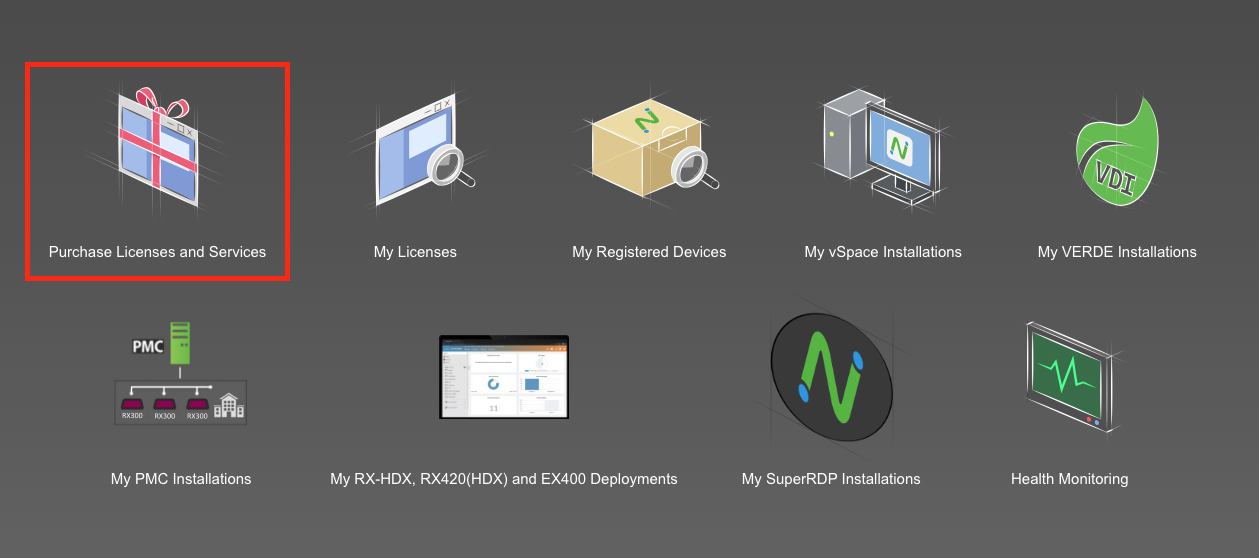 The
Product SKU is: L300-DeviceReset - Reset Blocked L300 Device.
Available for direct online purchase or through Purchase Order using a License Key.
Note that the price is $49 per device.
In the store, scroll down until you find the license named: Reset Blocked L300 Device.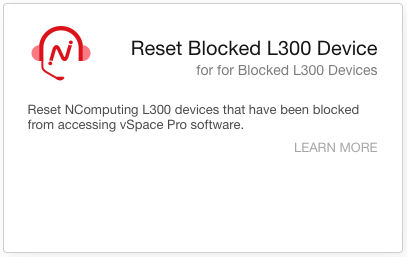 When you click on the license icon, you will find the following detailed description:

The blocked device must be registered to your Management Portal account to be eligible for this Reset License. You can manually register the serial number or simply connect it to your installed vSpace Pro deployment. vSpace will not allow the connection but it will transmit the information to the Management Portal and subsequently register the device to your account.
Go through the purchase and once it's done, your license is applied automatically to your account.


(if you are purchasing the license through a purchase order, you have to receive an email with a license key, which will contain instructions on how to apply it to your account)

In order to see your licenses, click Home on the top of the window and once you are at the welcome page of the Management Portal choose the My Licenses icon.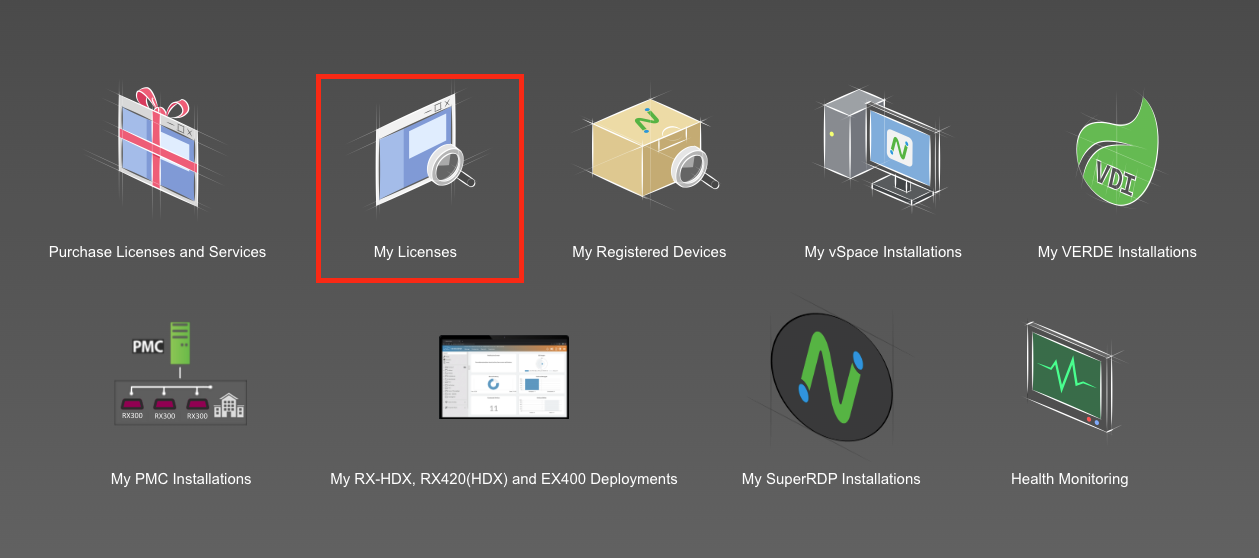 You should have a listing of your available licenses there. Click on the ALLOCATE text at the right of the license that you purchased.

Then, if your device (or devices) is connecting to a registered vSpace Pro server, your unit should be detected by the Management Portal. If so, it will be listed as a candidate to allocate your license.

Click on the desired serial number and click ALLOCATE.

You will receive a confirmation to confirm the action. Click on Yes, allocate.


Your unit is now unblocked.

To finalize the process, you need to re-register your local vSpace Manager. This will refresh databases and will synchronize the license change to your environment.

Please refer to this article to do this procedure:

REV 04/2022