VERDEOS 8.2.8 Supports UEFI Boot During Install
Product Line: VERDE

We've have numerous requests to support VERDEOS install via UEFI Boot.
Yes, VERDEOS 8.2.8 supports UEFI Boot.
We have confirmed installing VERDEOS 8.2.8 build 16768.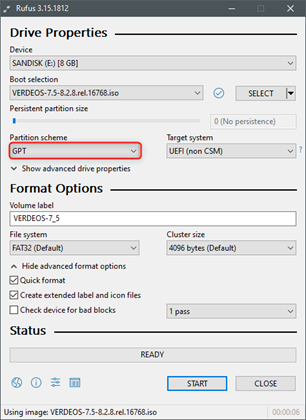 Related Articles

How to Configure your USB Device for VERDEOS

Product Line: VERDE Download the Win32DiskImager tool from the following web site: https://sourceforge.net/projects/win32diskimager/ Download the VERDEOS (.img) software from nComputing site. Install the Disk Imager tool. Start it up: Browse ...

VERDEOS NAS Mount Instructions:

Product Line: VERDE It is recommended that you set up your shared storage mount before installing and using VERDEOS. But, it is possible to add the storage device post usage. You'll need to backup all the data located in /home/. /HOME/vb-verde is ...

How to configure USB Device for VERDEOS

When installing VERDEOS with a USB thumb drive you will need to use the VERDEOS .IMG file and a thumb drive disk imager such as Win32DiskImager. The following example demonstrates how to perform this task. How to Configure your USB Device for ...

How to Upgrade VERDE(rpm) and VERDEOS

Product Line: VERDE VERDEOS: Download the VERDEOS ISO from the web page and burn it to a CD/DVD or USB (bootable). Ensure all VERDE sessions are shutdown Ensure there are no gold images checked out Stop the VERDE services on all servers except the ...

After an Electrical Outage, an Obscure Error/Bug Can Result in Total Loss of VERDEOS Networking

Product Line: VERDE There's a rather esoteric bug in VERDEOS. Its occurrence is rather rare. But, I'm providing the symptoms and the workaround/fix. Symptoms: This is specific to VERDEOS All the VERDEOS OVS NICS disappear. Only the server's ...