There has been a call from a customer to be able to SHARE their USB Printer. The following is specific to Windows 10 Operating Systems.

A small Windows network is used to test the 'sharing' of a USB-connected printer from a Verde Windows session. One endpoint is a Dell Inspiron laptop with Windows 10, that has a locally attached USB Printer.
First thing, go into the Printer Properties on my laptop and clicked on the 'Sharing' Tab to allow others on the Network to 'share' the printer. It is an HP Deskjet 1110.

For testing, there's another Windows 10 desktop that has the Verde Client installed.
It's used to login to Verde and launch a Windows 10 session using RDP protocol.
From the Verde Guest session, open the 'This PC' icon and click on Network. NOTE: You must 'Allow Network Discovery' on this Verde session. After it finished the Discovery, you can see Dell Inspiron laptop in the list: DESKTOP-IL9BUM6 This is the laptop that has the USB printer attached.

You are prompted for Credentials on the remote Computer, in order to access the Shared Printer.
Then it displays whatever has been 'Shared' on the remote Computer (this is the Dell Inspiron laptop).
This is the display received. Right-click on the HP Printer and click 'Open'.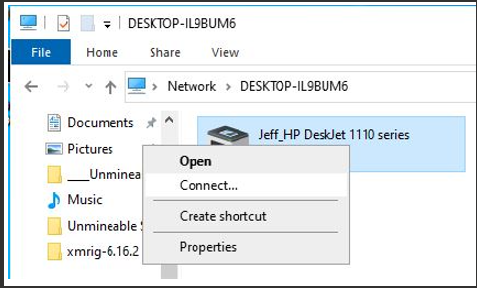 Now open 'Control Panel' and click on '
Devices and Printers
' and you'll find this new 'Shared' printer being Redirected through the laptop.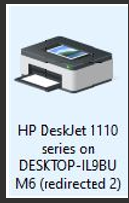 To test functionality, I launched Wordpad and created a Test document and selected 'File' – 'Print' and could see the Shared printer listed in the Print Dialog screen. You can see from the Verde Guest session, it shows the HP 1110 printer '
Ready
'.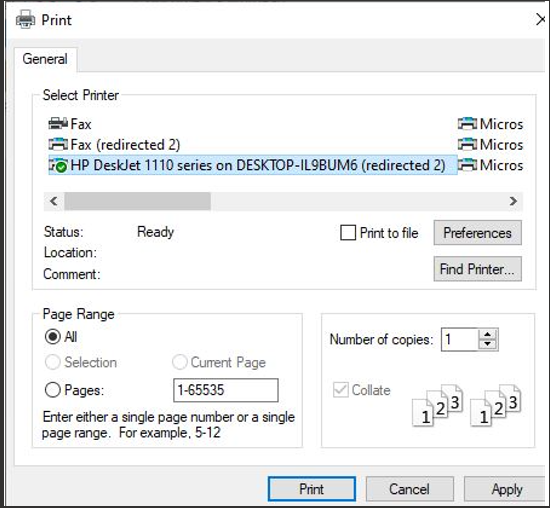 I selected the HP Desktop 1110 and clicked the 'Print' button, and from the Verde Windows session, using the Verde Client on a 2
nd
Windows computer in my Office, I was able to print the Wordpad document across the Network, on a Shared/Redirected printer physically connected to my Dell Inspiron laptop.