NTC LDAP Role Filter Configuration
On Domain Controller, create a group (e.g.

customntcgroup

)




Create a user and add it to created group.




Login to NoTouch Center as Administrator.




Go to Users – Create Role.




Enter Role name (i.e.

customntcgroup

) PS: Name of created group on domain controller must match with the name of Role name.




Go to User list and edit created role. Assign rights from that available rights and Save settings.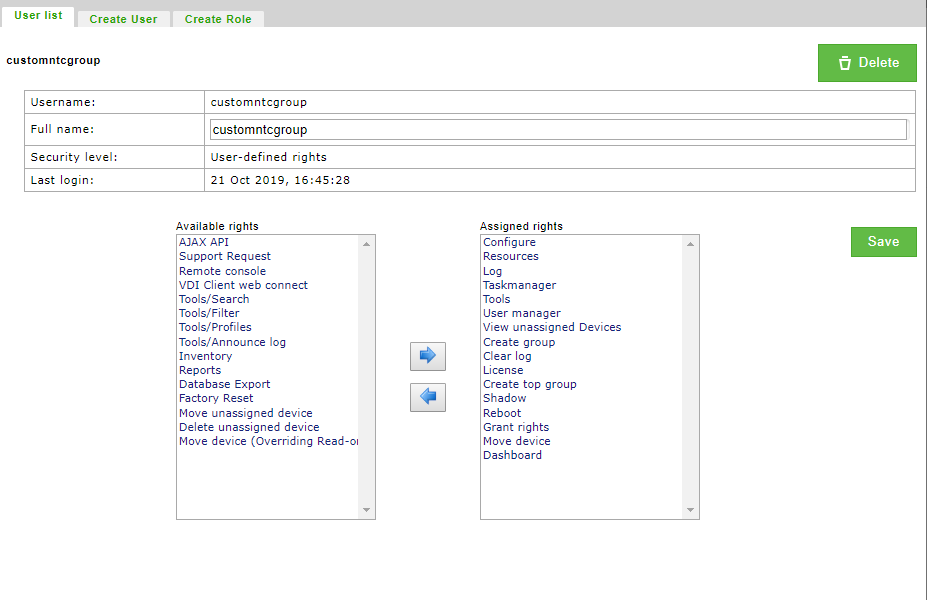 Navigate to Settings – Authentication.




Enter Role filter.



Save Settings and reboot NoTouch Center.




Login to NoTouch Center using LDAP user of created group (i.e.

customntcgroup

)



Related Articles

LDAP Authentication (NoTouch Center)

LDAP Authentication (NoTouch Center) NoTouch Center is a tool for system administrators to manage their endpoints. It not only maintains a list of local user accounts, but it also supports user authentication via LDAP using either Microsoft Active ...

LDAP - Active Directory - Global Catalog

Authenticating users from Active Directory forests (not only from a single domain) is possible in NoTouch Center. The NTC appliance needs to be configured to talk with the Active Directory Global Catalog server then though. The LDAP Server URL in ...

NTC Firewall Configuration

Firewall configuration The Stratodesk Virtual Appliance comes with a host firewall similar to any other contemporary server system. It is based on Linux' iptables mechanism and will filter inbound packets and allow only packets to selected services ...

Users with Custom Roles

Users with Custom Roles If you are unsatisfied with the built-in roles, you may create your own role and assign it to user accounts. When creating a role, you can choose from several permissions to assign. Create Role: Login to NoTouch Center Click ...

Configuring LDAP (OpenLDAP) only. No Active Directory

Product Line: VERDE It's rare to have a customer NOT use AD/Domain. But, it is supported. We've tested with OpenLDAP and JumpCloud LDAP. This article covers the VERDE Configuration to support OpenLDAP only authentication.