Product Line: VERDE

Uploading a Web Server Certificate into VERDE is optional.
Consider the browser "certificate warning" you always see when you access VERDE Management Console. Depending on which browser you are using, you have to click the advanced setting option and acknowledge that you accept the risks and tell the browser to proceed to the web page (MC login page).
If you always use an IP address (e.g.,
https://1.2.3.4:8443/mc
) to access the MC, there is no way around this warning. A certificate won't help.
However, if you want to get rid of the certificate warning you have to do the following:
Obtain a web server certificate from a known distributor like Digicert or GoDaddy. The web server certificate must be defined to use the same domain name that you use to access VERDE - e.g.,
https://demoverde.ncomputing.com
. Alternatively, you can obtain a wildcard certificate - e.g., *.ncomputing.com. It costs more but it allows any subdomain.
Using whatever DNS provider you have (e.g., GoDaddy or MarkMonitor), you must map the IP address of your VERDE cluster master to the desired domain - e.g., 1.2.3.4 is mapped to demoverde.ncomputing.com.
Upload the Web Server Certificate to VERDE using the instructions provided.

That's all it does - get rid of the certificate warning.
***NOTE*** All of the IP addresses and domain names used in this Knowledge Base article are examples only - none actually work.
FYI - we had to do all of this for our ncomputing website and Management Portal. We could still operate without a certificate but all our customers would see certificate warnings.
After you have properly imported your certification, you can check it by logging in to the Management Console - then click on the lock button in the URL (The following is using chrome):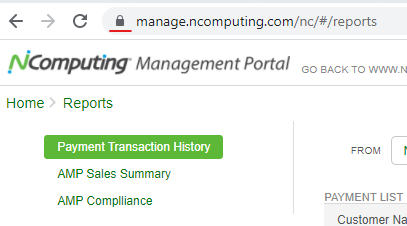 click the Connection is secure option to eventually get to display details of our certificate: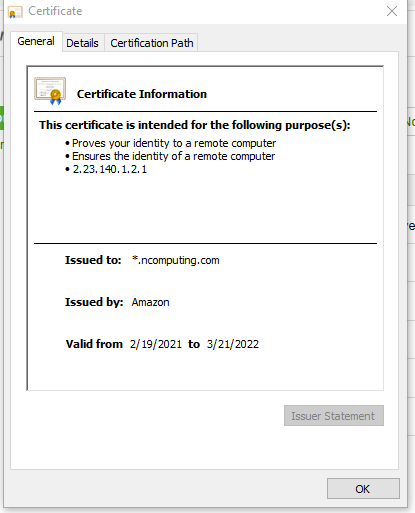 As you can see it is a wildcard certificate (*.ncomputing.com) issue by Amazon.
We could use this same certificate to upload to a demo VERDE server - for example, hosted in Azure.