How do I extend or renew NComputing product licenses?
OVERVIEW

The following document will provide you information on how to extend existing product licenses like AMP, Aged Device Licenses, Verde connection licenses and others.

Instead of purchasing a new batch of licenses, which may overlap on your existing licenses, there is a way to continue the life of your existing licenses without breaks or interruptions when the original purchase period of these expire.


New feature.

At the end of this writing, we will introduce an added mechanism to provide you with more control on how long you want your licensing to be extended. This can be useful when you have two or several licenses that expire at different dates. Using our new feature, you can match all your licenses to expire on the same day instead of different staggered dates.


An important note regarding these options.

The Extend and Renew option is available only for certain NComputing licenses. The examples in this document reference AMP licenses. If the NComputing license has an EXTEND button as described in this document then it is eligible for the feature.
PROCESS

Understanding Extension and Renewal Concepts.


For context, below are t
he differences between the
extend vs. renew
functionality:



Extend


Renew


Changes to the


number of licenses


NO


YES


Effect on Start and


Expiration Dates


The start date is unchanged. The license is still in force. Automatically extends the current license expiration date by the standard term of the license being extended. (e.g., for NC-AMP-1A 12 months is added to the existing expiration date)


The start date becomes the system date at the time the renewal


transaction is completed. The expiration date is based on the standard term of the license being renewed. (e.g., for NC-AMP-1A the expiration date is calculated by adding 12 months to the start date)

Extending an existing license is particularly useful as it ensures that there is no gap in service caused by a license expiration event.
Extending a license

We illustrate below how to extend AMP licensing, however, this process is similar for other renewable software licenses.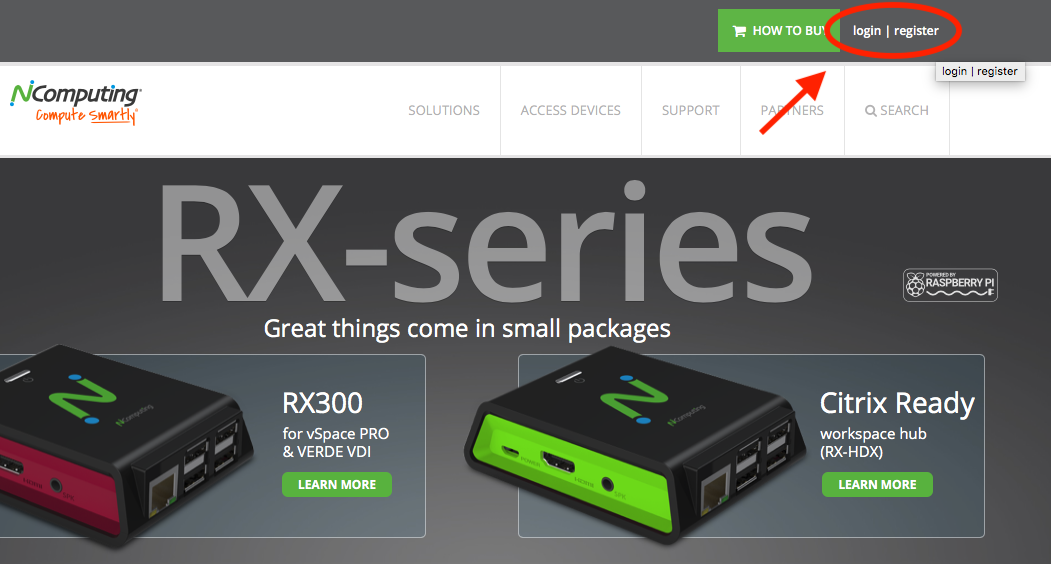 Access the Management Portal tab.


Click
o
n
the icon named
M
y
L
i
c
ense
s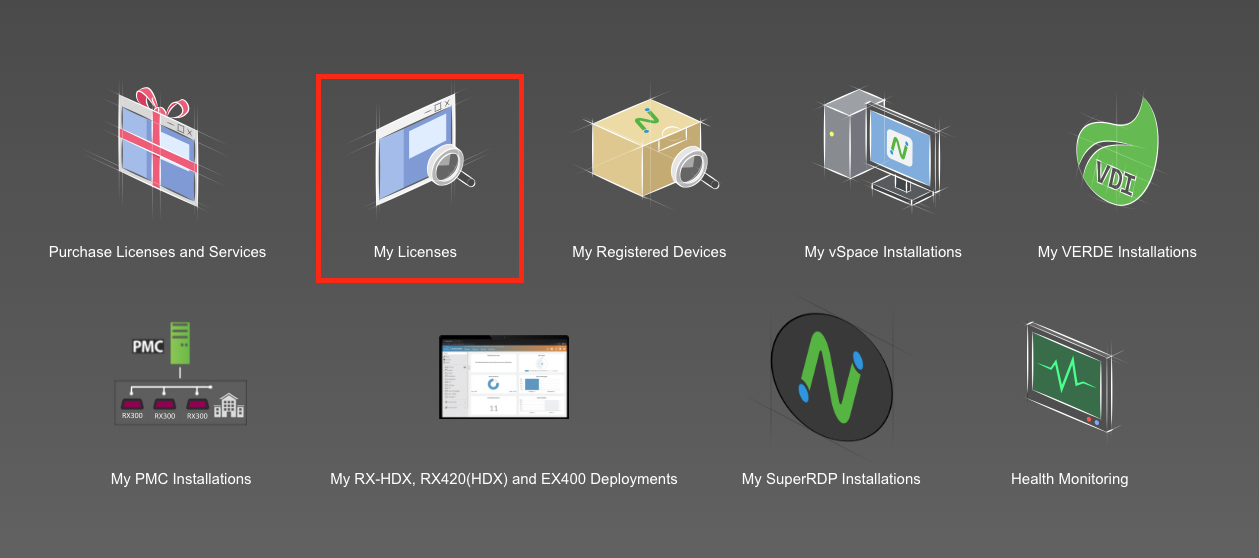 When you enter the My Licenses dashboard page, by default, the list of unexpired licenses will be displayed. You have a
L
I
C
E
N
SE STA
T
US
fi
l
t
e
r
on the top left where you can see your
Active Licenses
(default),
Expired Licenses
, or
All Licenses
.
Also, for any renewable software licenses you own, you should see a label bearing green, on the right, that reads
EXTEND
. This text is hyperlinked. This is where you can click on it to proceed to begin the extension process.

Renewing a license
Now, let's look at an example of
renewing
some expired licenses
.
First, let's change the
L
I
C
E
N
SE STA
T
US
fi
l
t
e
r
on the top left and sele

c

t the

"

Expired"

o

p

t

i

o

n:

From there, you can click on the RENEW letters bearing green.

Payment

Once you are ready to proceed, a
f

t

e

r cli

c

ki

n

g

EXTEND

o

r

RENEW

, y

o

u

will

b

e

p

r

om

p

t

e

d

w

ith

o

u

r refu

n

d

p

o

licy

ac

kn

o

wled

g

e

m

ent:
A

f

t

e

r cli

c

ki

n

g

CONFIRM

yo

u

w

ill be provided with a standard form to enter your credit card or PayPal details in order

t

o

c

omp

lete

t

h

e

pu

rc

h

ase.

VAT number can be left blank if your country does not use a VAT system.

When E
x
t
e
nd
i
n
g
an u
n
e
x
p
i
red l
i
cens
e and (*NEW FEATURE*) customizing a date of expiration.
When you are checking out, you will be offered with the opportunity to select a desired expiration date for your license.

This feature is convenient when you have multiple licenses that have different expiration dates. In such case, you can extend each license you have and select the same expiration date for all in order to avoid multiple dates of expiration.

N

o

tice

t

h

at

y

o

u

m

ay

n

o

t a

d

j

u

st the license q

u

a

n

t

i

t

y as this has been already predetermined by the

licenses you currently own

.

Please note that you cannot select a date that would be earlier than your default term extension, neither the quantity of the licenses can be changed.

Here is an example at extending 2 licenses of AMP. At selecting an expiration date, your final amount is pro-rated based on the expiration date selected.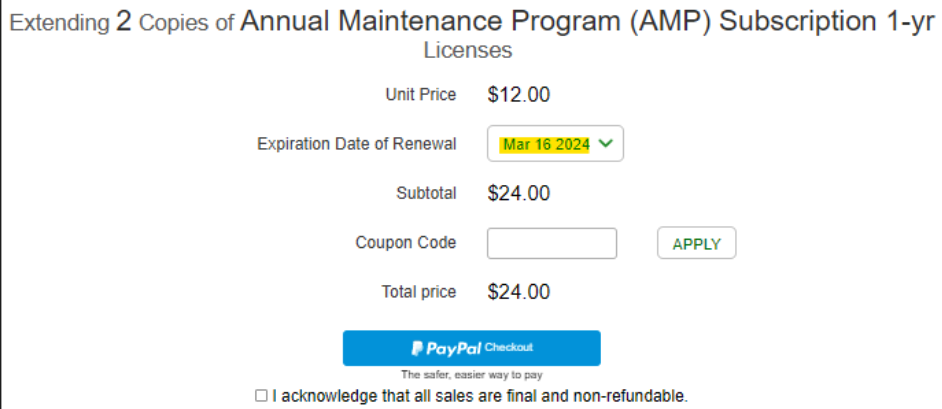 The default new expiration date is calculated as 12 months (NC-AMP-1A) from the existing expiration date. This license has 2 quantity so the total price is $24.00.
However, if you select a different expiration date, then price changes and your amount is prorated.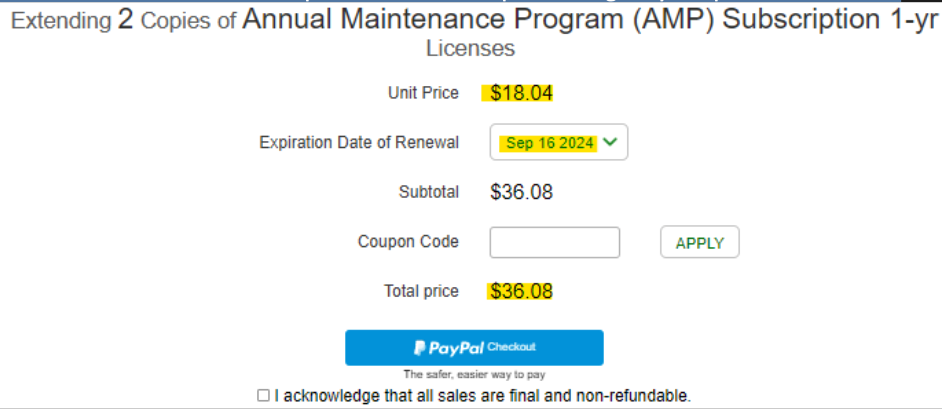 Here, a different date is selected:

Once you have a selected date. You can proceed and finalize your purchase.
When Renewing an expired license

Enter the desired quantity then click the acknowledgement checkbox, then click PURCHASE or PayPal to complete the transaction.
The renewed license is immediately added to your customer account. No further action is required.

REV 04/2022