This article is for customers who have installed vSpace Pro and are not able to connect any hardware or software clients to their vSpace host server.
UPDATE DECEMBER 2017: Issue has been resolved with vSpace 10.5
SOLUTION: This is not an NComputing vSpace configuration however, you will need to remove the existing vSpace installation and then Disable Secure Boot in the BIOS before installing again.

Page 9 in our release notes for the latest vSpace Pro highlight a configuration setting that needs to be disabled before installation. See below note and attached file for reference.
• Secure Boot: The Secure Boot feature of current PC models needs to be disabled temporarily during install of vSpace Pro 10.3. After finishing the installation it can be turned back on.

Since there are several motherboard manufacturers, the interface and steps could be slightly different for this process, make sure and identify your specific system model.

Below is an image of one of the many examples of the system BIOS where you would toggle this setting.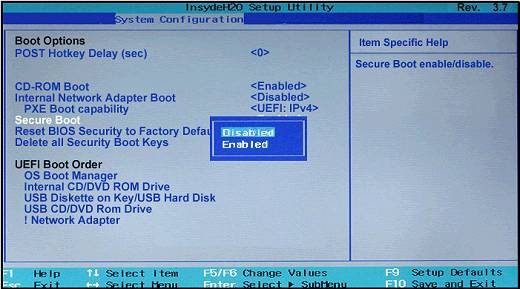 Here are a couple links showing how to navigate in different BIOS.
See below link for a related article with Hypervisors/virtual machines and Secure boot.